A&L Series 40th Anniversary Tour – Dates Announced!
This website is supported through the Amazon Associate program as well as other affiliate ads. I earn a small commission from qualifying purchases made through links on the site.
Two impossibly talented US multi-instrumentalists, Rodney Branigan and Tim Snider, are joining forces as a power world/folk duo for an unmissable UK dealer tour, celebrating the 40th Anniversary of Yamaha's flagship L Series Guitars.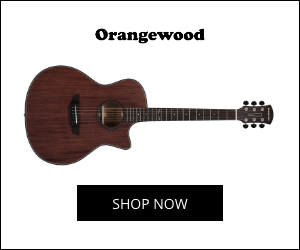 This highly accomplished duo will be demonstrating how the unique features, that have had reviewers exalting the design and craftsmanship of Yamaha's new L Series, perform in a real live situation. Both performers sound like an ensemble on their own, with impossible instrumentation and unearthly musicality; together they are a symphony of roots based acoustic folk.
Rodney Branigan – originally from Texas, is an acclaimed multi-instrumentalist renowned for playing two guitars at once. However, he is also a talented singer-songwriter, who learnt his craft in Nashville. Now resident in the UK, he has become a regular favourite on the acoustic festival scene, as well as being a popular educator and contributor to Guitarist magazine.
Tim Snider – from Nevada, plays and loops the electric violin, guitar, cajon, and vocals, creating aural landscapes that are forceful, confessional, and raw. Coming from Reno, Nevada, Tim picked up the violin when he was just three years old. Over the years, exposure to rock music songwriters, like Ben Harper and Paul Simon, inspired him to play the guitar. His sojourns in Spain and Cuba introduced flamenco, salsa, and Afro-Cuban rhythms into his repertoire. His music can be described as a world-folk-jazz hybrid that is aimed at the heart, the brain, and the feet.
The tour will be a perfect opportunity to try our full range of the new L series and A series guitars, and walk away with a brand new Yamaha guitar. With each purchase you will receive a G7th limited edition 40th Anniversary L series capo, and our very own Dr Guitar will set up the guitar, just how you like it.
Tickets for the event are free of charge but interest will undoubtedly be high and places will be liited so early booking is advised.
PMT – MANCHESTER – JUNE 16TH – 7.30PM – 0161 877 6262
PMT – LEEDS – JUNE 17TH – 7.30PM – 0113 242 6601
GAK – BRIGHTON – JUNE 19TH – 7.30PM – 0127 366 5400
MANSONS – EXETER – JUNE 24TH – 6.30PM – 0139 249 6379
GUITAR GUITAR – GLASGOW – JULY 1ST – 7.30PM – 01372 730 578
RED DOG – EDINBURGH – JULY 2ND – 7.30PM – 0131 229 8211
REIDYS – BLACKBURN – JULY 3RD – 7.00PM – 0125 426 5212
YAMAHA MUSIC LONDON – JULY 7TH – 6.30PM – 0207 432 4411
Amazon and the Amazon logo are trademarks of Amazon.com, Inc, or its affiliates.
Please follow and like us:
You may also like...