Ashbury AG-160 000 Review
This website is supported through the Amazon Associate program as well as other affiliate ads. I earn a small commission from qualifying purchases made through links on the site.
Just received the Ashbury AG-160 000 acoustic guitar from those wonderful chaps over at gremlinmusic.co.uk and thought I would share my first impressions of this rather nice mid-priced guitar.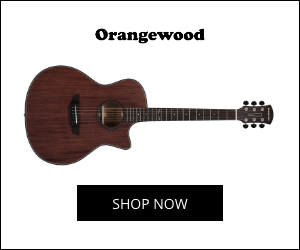 The Ashbury AG-160 is a "000" size guitar which means it is shallower than a dreadnaught and narrower in width. This size is also known as an 'auditorium' and is favoured by fingerpickers of which I am definitely one. It's size also means you can hold it closer in to the body which makes it less unwieldy especially for the gigging guitarist.
This is a very well made guitar with a top of solid Engelmann spruce and rosewood back and sides with a thin maple strip running down the centre of the back. Neck is mahogany and fretboard is rosewood bound in maple. Machine heads are gold plated die case with black soft feel covers. Nut and saddle are bone and bridge is rosewood.
There is an attractive maple binding around the body and nice detailing on the heel of the neck.  Nut width is 44mm and neck
profile is slim, as in more like an electric guitar than an acoustic which is very handy if your moving from electric to this guitar. You'll feel right at home with it. The frets are very well finished by the way, no rough edges to catch your fingers on.
I had a good look inside the guitar. Making a guitar look great on the outside is relatively easy but attention to detail on the inside tells you a lot about the care taken when
building a guitar. Happy to say that everything has been very neatly finished on the inside of this particular  guitar. No excess glue or roughly finished joints anywhere.
So, it's well built and looks great but how does it sound? The combination of the 000 size, solid Engelmann top with rosewood back and sides means it has a great mid focused quality to it. As a predominantly finger-style guitarist myself this works well for me. Every note rings clear and it has wonderful sustain. Of course these things are difficult to convey in words. The accompanying video can give you some idea of what the guitar sounds like but you really need to see and hear it for yourself.
All in all though I have to say that the Ashbury AG-160 is great value for money guitar. If your in the market for a sub-£500 guitar this one should definitely be on your short list. Since this review was first published the price of the Ashbury AG-160 has fallen to just £335 so that makes it even more of a contender for best acoustic guitar under £500.
You can also now purchase the Ashbury AG-160e which has the Fishman Isys pickup system on board for even less here https://amzn.to/2EdwSAC
Visit your local Hobgoblin Music Store and try one out for yourself.
Also don't forget to drop by the forum if you want to discuss this or any other instrument.
Features
Rosewood sides with maple binding (layered). Rosewood bridge with bone saddle and top nut
Slim mahogany neck with rosewood fingerboard bound in maple. Rosewood peghead overlay with gold colour purfling
Gold plated diecast machine heads with black soft feel buttons.
Specifications
Nut width: 44mm
Width at 12th fret: 53mm
Scale length: 652mm
Body depth: 102mm
Lower bout: 362mm
Upper bout: 264mm
Waist: 230mm
No Frets: 20
Body length: 476mm
Overall Instrument Length: 1002mm
Made in: China
Ashbury: Professional quality range of Guitars, Basses, Resonators, Ukuleles, Mandolins, Banjos & Fiddles   View all Ashbury Acoustic Guitars   View all Ashbury Products
This range has been designed with the folk guitarist firmly in mind. The Lindisfarne and Rathlin models are made in a boutique factory in Vietnam, and were designed in consultation with luthier Phil Davidson. The Rathlin guitars have solid Sitka Spruce tops, with Mahogany back & sides and Rosewood binding. The Lindisfarnes are solid Cedar and Rosecherry, both attractively understated with a handmade look and feel, they are excellent value.
Amazon and the Amazon logo are trademarks of Amazon.com, Inc, or its affiliates.
Please follow and like us:
You may also like...