Best Solid Top Acoustic Guitars Under £200
This website is supported through the Amazon Associate program as well as other affiliate ads. I earn a small commission from qualifying purchases made through links on the site.
Buying a good quality acoustic guitar for £200 or less used to be a bit of a lottery. You could pretty much guarantee an all laminate construction and pretty mediocre sound. The setup might also not be that great and eventually most of these guitars would end up gathering dust or find themselves in the classifieds going for peanuts.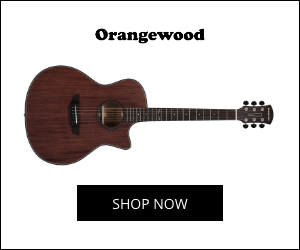 Things however have changed and in a big way. These days cheap does not mean you need to sacrifice quality. Now it is more about doing without the fancy looks and all solid construction of the higher end guitars.
It is generally accepted that the biggest defining factor for the sound of any acoustic guitar is the top soundboard. And to get a sound that will only get better over time you need a solid top on your acoustic guitar.
This is not to say you cannot have a good sounding laminate top guitar but, laminate by the nature of it's construction (layers of wood glued together) is stiffer and cannot respond and move in the same way as a solid top. It also won't mature with time so what you get "out of the box" is pretty much what you are stuck with.
So if you want a great sounding solid top guitar for very little money what are your options? Second hand of course is one way to go and for sure there are plenty of bargains out there if you know what to look for but here we are looking at brand new guitars which of course will come with the peace of mind of having a warranty which is never a bad thing.
So, lets see what your £200 can get you at the moment.
First on my list would be the rather wonderful Yamaha FG800. This guitar used to sell for well over £200 but has recently been discounted by some dealers to as low as £178 and that makes it an absolute steal!
The Yamaha FG800 has a solid spruce top with Nato/Okume layered back & sides, Nato neck with matt finish, Rosewood fingerboard & bridge and scalloped X-Bracing which allows the solid top more movement without sacrificing strength. Along with the die cast tuners and really nice body binding this is a lot of guitar for the money. It sounds great and plays great and whether you are just starting out of looking for a low cost great value for money acoustic the Yamaha FG800 has to be at the top of your list.
---
Next up we have the Epiphone AJ-220S. This guitar not only looks great but has a solid sitka spruce top, layered mahogany back & sides, mahogany neck (satin finish), premium tuners and comes in natural and vintage sunburst gloss finishes. Currently selling for as low as £159 this has to be a bargain!
---
Moving on we come to the Fender CD60-S. This should not be confused with the standard all laminate CD60 so be careful when buying. The CD60-S is a new upgraded model sporting a solid spruce top with scalloped x-bracing, layered mahogany back & sides, rosewood fingerboard with rolled edges and pearloid dot inlays, rosewood bridge, die cast tuners and traditional Fender headstock. The most incredible thing about this guitar though is the price. Right now you can pick this guitar up for just £135! Think about that for a moment. A solid top guitar from Fender for £135? That is incredible value for money.
---
Finally we have something a little different. Our previous selection all had solid spruce tops but of course certain guitars lend themselves to more specific genres of music and here we look at the Ibanez AW54 from the Artwood series. This guitar has an open pore finish solid mahogany top layered mahogany back & sides, satin finish mahogany neck, granadillo fingerboard, rosewood bridge, die cast tuners and is finished with a nice black binding around the body.
Mahogany is less bright than spruce and provides a warmer more focused tone which lends itself very well to fingerstyle guitar but of course can accommodate all styles of music.
The Ibanez AW54 is currently available for just £174.15 from GAK in Brighton
---
So there you have it. A few suggestions on which solid top acoustics you can now buy for less than £200. There may be others of course but we can only comment on the ones we have tried and tested ourselves.
The best way to purchase any guitar of course is to get to a store and try it for yourself. Of course that is not always practicable so if buying online make sure you buy from a store that provides a no quibble returns policy. Also acoustic guitars in particular do need some time to settle after transport so give it a few days before you make up your mind
NOTE: We have played each of these guitars over the past 12 months and they are listed here based purely on our own experiences with them taking into account sound, playability and value for money.
For more discussion on all these guitars and many others why not drop by our forum? We would love to see you there.
Amazon and the Amazon logo are trademarks of Amazon.com, Inc, or its affiliates.
Please follow and like us:
You may also like...