Breaking news: Zero Latency on Android shown at NAMM 2015!
This website is supported through the Amazon Associate program as well as other affiliate ads. I earn a small commission from qualifying purchases made through links on the site.
IK to show the universal solution for real time audio processing on Android 4.0 or later
Having pioneered low-latency digital audio interfacing and processing on select Android Samsung Professional Audio devices with iRig HD-A, AmpliTube, iRig MIC HD-A and EZ Voice, IK Multimedia will present a breakthrough universal solution that provides near zero latency and real-time audio processing on a wide assortment of Android devices (running Android 4.0 or higher and compatible with USB host mode/OTG mode) at NAMM 2015.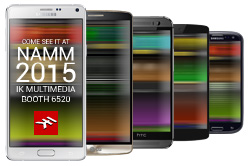 Despite representing over 80% market share of mobile devices in circulation, Android smartphones and tablets have not established themselves as a reliable music creation platform. This is due to factors like the OS's performance, which is not suitable for real-time processing, and the fragmentation of the platform across dozens of manufacturers and carriers.
Even with the addition of standard USB Audio I/O in the recent release of Android 5.0, the platform still lacks the ability to perform rock solid real time ultra low latency audio processing.
IK Multimedia has solved this problem with a paradigm shift of a universal solution that delivers astonishing near zero latency performance (down to 2 ms round-trip total latency) on every Android device running Android 4.0 or higher and that supports USB host mode/OTG mode independently from the device manufacturer.
This solution will be made available to the hundreds of millions of devices in circulation from manufacturers like Samsung, Google, Motorola, LG, HTC, Xiaomi and more. Finally, the capability for using the Android platform for serious music making and performance has arrived.
Try it for yourself and visit IK Booth #6520 at the 2015 NAMM Show in Anaheim, California during January 22-25, or visit our site and social channels for more information released during the show.
Amazon and the Amazon logo are trademarks of Amazon.com, Inc, or its affiliates.
Please follow and like us:
You may also like...