Bringing Keyboard To Front Of Stage With The Nu-Motion REVO-1
This website is supported through the Amazon Associate program as well as other affiliate ads. I earn a small commission from qualifying purchases made through links on the site.
There have been many instruments over the years that have been intended to give keyboard players the same freedom of movement on stage as guitarists but one of the main issues is that they all tend to stick to the same design concept. That is to take a traditional synth and simply put a strap on it, perhaps trimming the weight and adding a few extra controls. The downside is that a traditional shaped keyboard is just not suited to the stand up and run around the stage style of playing. Enter the REVO-1. A "curved" ergonomically designed keyboard that takes the keyboard player stage front in a big way!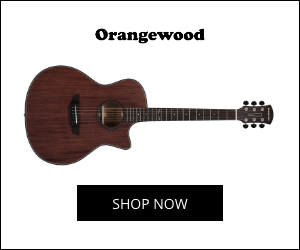 NuMotion keyboards, is a Canadian manufacturer based in Montreal, Canada. After several years of research and development, the company has completed in recent years the development of a quite innovative new concept of portable keyboards, with a unique ergonomic and patented design. The company was created from an original idea of Mr. Mario Brun, a veteran designer who is well known for his innovative spirit.
Mr. Brun is also an experienced keyboardist. For many years he noticed that a keyboard for live performance was really missing on the market. This is how the new concept of a portable ergonomic keyboard has appeared.
The REVO 1 is a new generation of mobile keyboards. The concept allows natural playing with both hands with complete freedom of movement. In addition to it's ergonomic shape the Revo 1 interface and features are developed specifically for Live Performances.
REVO 1 Features:
• Onboard MIDI Wireless communication system
• 60 User memory to recall your greatest sounds
• 10 Favorites quick recall
• Full size velocity-sensitive keys with after touch
• Pitch wheel and modulation slider
• Unique Wireless sustain pedal
• LCD display
• Long battery operation up to15 hours + 2 AA backup battery
• 2 assignable controller knobs
• 2 Mix volume for direct balance
• Split and layer function
• Octaves shift (± 3)
• Transposition by semitones (± 12)
• Sequencer/Panic button
• Motion accelerometer effect trigger
More Info available from the Nu-Motion website
Amazon and the Amazon logo are trademarks of Amazon.com, Inc, or its affiliates.
Please follow and like us:
You may also like...