Could the Harley Benton CLA-15MCE Be One Of The Best Budget Acoustic Guitars Out There?
This website is supported through the Amazon Associate program as well as other affiliate ads. I earn a small commission from qualifying purchases made through links on the site.
I didn't quite know what to expect when I unpacked the Harley Benton CLA-15MCE. I had of course heard of the name before. It is a house brand of Thomann Music, Europe's largest musical instrument retailer and the HB brand itself was established back in 1998 so they have been around a long time.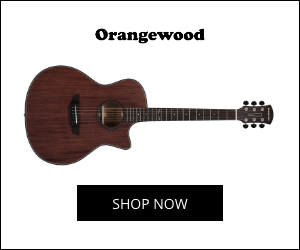 The guitar arrived extremely well packed, so much so it would have taken a heard of elephants running over it to cause any damage! on removing the guitar from the packaging I must admit I was immediately impressed by by the finish and the the way it felt in the hand. In fact I did check to see if they had sent the right guitar because this one felt a whole lot more expensive than the £174.59 price tag.
The CLA-15MCE is part of their 'Custom Line' range and of the 000 variety often referred to as an 'Auditorium' which means it is smaller than a dreadnaught, slimmer in the waste and not as deep. It is an all mahogany guitar, so that is a 'solid' mahogany top, laminated mahogany back and sides and mahogany neck. However it should be pointed out that since this review was first published in April 2018 Thomann have edited the spec of the guitar and now list it as "Gaboon Mahogany" (Aucoumea klaineana) and this can be misleading.  Aucoumea klaineana or Okoume as it is sometimes called is not mahogany and not even related to that tone wood. It is closer in tonal character to maple so that is something worth keeping in mind. The fretboard is Ovangkol which is a West African wood related to rosewood and bracing is of the scalloped x type. Bridge is also Ovangkol. Nut and saddle are bone.
The fretboard features rather nice "Snowflake" inlays and there are dot markers along along the top of the board. The frets by the way are well finished with none
of the sharp edges which you sometimes find on guitars at this price point. Machine heads are chrome-plated die-cast and feel great so no problems there.
Electronics are taken care of by the Fishman Isys+ preamp system with integrated tuner. Strings are D'Addario EXP-16 .012 – .053
I have done a full video review to accompany this write up which will give you a better idea of how this guitar looks and sounds but for now I have to say I was very impressed by the quality on offer here and for such a low price. This is a really well made guitar and not only that it sounds and plays great too. How they manage to put this out at £174.59 is something I am still trying to figure out. Solid top guitars usually come in well over the £200 price point.
Who would this guitar suit? If your just starting out I can highly recommend it. The quality is excellent and you will be very grateful for the easy playability…the low price doesn't hurt either of course. However I would also say this is a great guitar for anyone on a budget no matter what your skill level. You really don't have to spend a lot of money to get a decent guitar these days and the Harley Benton CLA-15MCE is a case in point.
Would I buy one? Definitely! I have had a lot of fun playing this guitar. In fact I liked the review model so much I did buy it! I didn't have a mahogany guitar in my collection and I had become quite attached to this one so made sense to hang on to it…even though it is not real mahogany!
The CLA-15MCE sounds and feels like a guitar twice the price and had I not purchased the review model and was on the look out for a good quality, value for money guitar I would be very pleased to have found something like the CLA-15MCE.
Looking for alternatives?
Fender FSR CC-60S
Vintage V300 Folk Acoustic, Mahogany
Eastman PCH1-OM Classic
Yamaha FS800 (solid spruce top but well worth considering). 
LAG Tramontane 70 T70A
For more details see:
https://www.thomann.de/gb/harley_benton_custom_line_cla_15mce.htm
Don't forget to drop by the forum for more discussion on the Harley Benton CLA-15MCE as well as other guitars and keyboards!
Amazon and the Amazon logo are trademarks of Amazon.com, Inc, or its affiliates.
Please follow and like us:
You may also like...