Dealer Of The Month – GuitarGuitar.co.uk
This website is supported through the Amazon Associate program as well as other affiliate ads. I earn a small commission from qualifying purchases made through links on the site.
Recently ordered a Yamaha A3M acoustic guitar from www.guitarguitar.co.uk. Order was processed very quickly and dispatched the same day so was a 24hr turnaround, so far so good. Unfortunately the guitar arrived damaged. It was easy to see that the box had broken open and the guitar had fallen out. Fortunately the A3M comes with a fitted hard case which protected the guitar but the case itself was badly scuffed and scratched.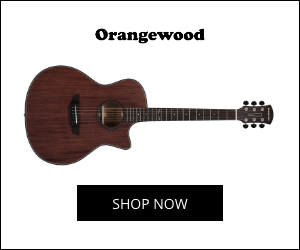 On taking the guitar out of the case I could see there was a scratch on the back and what appeared to be a tiny crack near the battery holder for the preamp.
This is the part where a lot of dealers fall down but not guitarguitar.co.uk. On notifying them of the problems they immediately tried to find a replacement, which was not easy as there were hardly any A3M's in the country. Yamaha had one but it was damaged so could not be sent out and the only other one GuitarGuitar had in stock was also worse for wear as it had been out on the shop floor as a demo unit.
Rather than mess about the good folks at GuitarGuitar went above and beyond and offered to replace the A3M with the A3R, which is a much more expensive guitar and yet they offered it at the same price as the A3M. Naturally I accepted their offer. They said they would need to order one in but rather than leave me without a guitar they said I could keep hold of the A3M until the A3R was in stock.
It took a couple of weeks before the A3R turned up and this time it was in perfect condition…and actually turned out to be a nicer guitar all round.
So the lesson here is, things do go wrong from time to time but it's how you deal with it that matters and GuitarGuitar were excellent in every respect.
I would especially like to mention Martin in web support for his speedy responses to my emails and for making all this happen.
In conclusion I have no hesitation in recommending guitarguitar.co.uk if your in the market for a new instrument. They don't just sell guitars by the way, they sell keyboards and a whole range of other instruments too 🙂
GUITARGUITAR are officially the UK's largest guitar store.
Stores in Birmingham, Edinburgh, Glasgow, London & Newcastle
http://www.guitarguitar.co.uk
[AdSense-A]
Amazon and the Amazon logo are trademarks of Amazon.com, Inc, or its affiliates.
Please follow and like us:
You may also like...