Dowina Danubius – Elegant Design Meets Detailed Craftsmanship.
This website is supported through the Amazon Associate program as well as other affiliate ads. I earn a small commission from qualifying purchases made through links on the site.
Up until last year the name 'Dowina' would probably not have been familiar to many acoustic players in the UK. They are a small family run guitar maker based in Bratislava, Slovakia. The company originally started out making violins back in 1979 and then carried that expertise forward into building some of the best acoustic guitars in the world today. Lucky for us we are now starting to see Dowina guitars appear in dealers across the UK.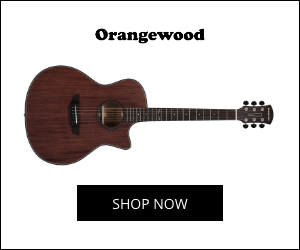 The guitar that is the subject of this review comes from top end of the Antique range. These are Dowina's entry level guitars but I would say "entry level" only in terms of an introduction to the full lineup on offer. If you think of the Taylor Academy series or perhaps the Furch Indigo range you will be in the right ball park. So high quality and reasonable price.
The Danubius like most Dowina guitars comes in several variations of body shape and top plate tone wood depending on your personal preference. You can choose from the Danubius D (dreadnought), Danubius DC (dreadnaught cutaway), Danubius GA (grand auditorium) and Danubius GAC (grand auditorium cutaway). Top plate options are Cedar or Dolomite Spruce. You can also specify with or without electronics.
The Spec:
Top – Solid Cedar or Dolomite Spruce
Back & Sides – Laminated Maccasar Ebony
Neck – Nato
Nut – 45mm
Scale length – 25.5″/647.7mm
String spacing at nut (E to E) – 37mm
String spacing at saddle (E to E) – 55mm
Nut & Saddle Material – Bone
Bridge – Ebonized hardwood
Fingerboard – Ebony
Neck & Body joint – Dove tail
Tuning machines – Die-cast tuning machines
Finish – Open pore
Strings – D´addario EXP16 0,12
Build Quality:
One of the first things that you notice when looking at a Dowina guitar is how incredibly well built they are. Flawless lines and smooth finishes are evident everywhere and even on these entry level guitars there is an understated elegance to them which makes the guitar feel and play like it is so much more expensive than it actually is. Everything just feels right. The level of finish even extends to inside the guitar. You won't find any loose bits of wood or excess glue here. So everything is good as far as the build goes but, how does it sound?
Sound & Playability:
A guitar can be the right price and look a million dollars but if it doesn't play and sound as good as it looks then what is the point right? The good news is if you purchase a Dowina these are matters you no longer need to concern yourself with. Not only do the guitars look great they also play beautifully and sound fantastic. Unfortunately I didn't have long with the Danubius but I have played and owned several Dowina guitars in the past and all have been superb.
Although the back and sides of the Danbius are layered I think the use of Macassar ebony still adds a little to the sound. Solid Macassar normally exhibits strong bass and mids with clear and transparent highs and there is definitely a little of that here. In combination with the solid cedar top on the particular model I tried it makes for a very well balanced guitar.
Conclusion:
There are some guitars you want to pick up and play and some guitars you just want to look at. The Dowina Danubius is a guitar that combines both. Not only does it look good and sound great but every time you put it down you want to pick it up again and that is always the sign of a great guitar. Once again Dowina have weaved that ancient spirit of wood into another wonderful guitar.
For more info visit https://dowina.com
UK distribution https://www.cuk-audio.com
Also for more discussion on Dowina Guitars why not visit our forum? We would love to see you there
Amazon and the Amazon logo are trademarks of Amazon.com, Inc, or its affiliates.
Please follow and like us:
You may also like...