(with apologies to Purcell for playing on his Hyperworkstation dream
)
Hi, all
I've been meaning to post this for a while, to show you the details of how I have built my own fully configurable "hypersynth". I've now gigged this setup, and it went like a dream, so I decided it was time to post this before doing anything else this week.
I've built this to work in conjunction with the hardware synths that I have as a "half way house" between live and virtual instruments. Hopefully this will give you some ideas for yourself. I did consider going fully virtual, but with what I want to do, I don't think computers are powerful enough yet to do everything, but they are now powerful enough to run one or two resource hungry soft synths at low sample buffer sizes at the same time, so a good time to get a computer to run my VST arsenal in a live context.
Note: I have pushed the boat out a bit on this, and the general rule of thumb is buy the most powerful computer you can afford today. But if you are more budget constrained then you could do similar with less powerful and cheaper computers - or buy second hand last year's "Performance Laptop", although you may be constrained in the ability to run the more resource hungry soft synths. And any current keyboard that you have will of course function as a controller as well as a sound source. So the general principle can be scaled according to budget.
First off, a picture of the entire rig. The main reason for showing this is to show the Touch Monitor which I use to control the computer in the Rack.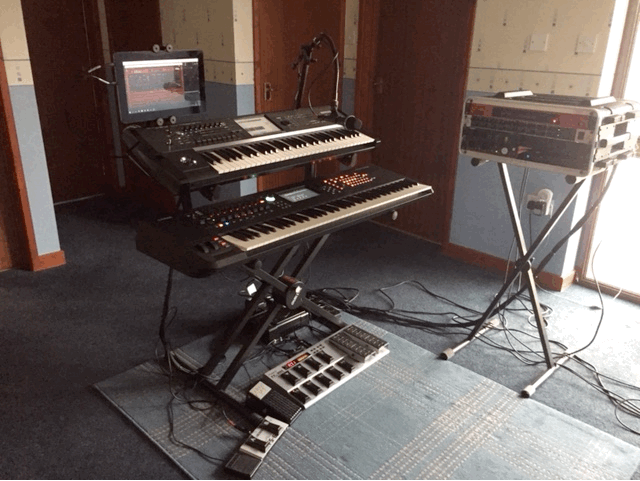 We'll now focus on the rack to the side as this is the area of interest for this post.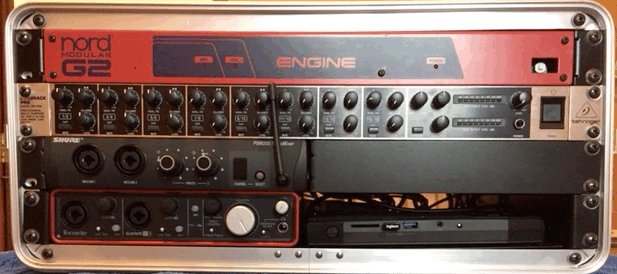 In this rack I have from bottom to top
Focusrite 2i4 USB sound module to the left and Intel NUC computer to the right for the Cantabile host
Shure Wireless transmitter for In Ear Monitoring (output 3 of the 2i4 wired direct internally)
Behinger 8 channel line mixer - six channels in use, and mixing the live sources with the 2i4 output from the computer.
My beloved Nord G2 Engine (go faster stripe) - the modular synth in a 1U rack. It doesn't look much, but it is very powerful. I haven't used this for a while, but added it in as it adds very little weight and is a great sound source.
So the focus is on the NUC computer. This is an
Intel NUC
which I specified with 32GB memory and a 512GB SSD. Obviously go for as much memory as you can afford, and I went for a large SSD for running Sample based VSTi's such as Omnisphere and Kontakt. If your soft synths are not sample engines with large libraries then you could get away with a smaller and cheaper drive. Whilst I have gone with the NUC to make a very compact rack, I did gig for years with a laptop and many still do,so that may be a more budget concious option.
The Monitor I am using is a
GECHIC 1303i
Hi resolution touch monitor which is not cheap, but provides a lovely hi def touch interface which I can mount on my keyboard stand to keep an eye on computer activity, select different sets, etc. I take a wireless mouse and keyboard with me, but that is only for emergencies. You could ask why I did not just use a tablet computer. That is an option, but they tend to be constrained in terms of power, memory and IO ports
The software I am using as a live host is
Top Ten Software Cantabile 3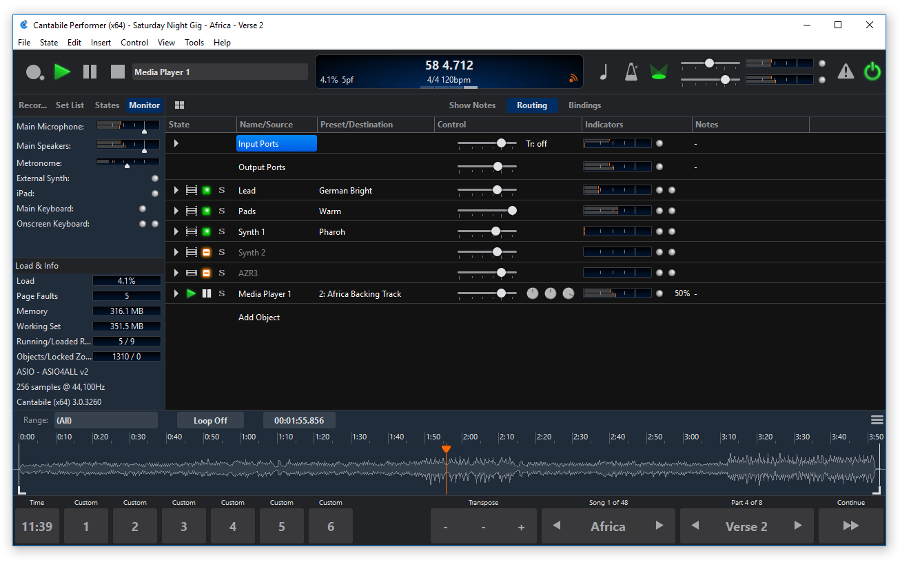 This is a very flexible piece of software, optimised for live use which provides
The ability to setup MIDI routes and process MIDI data on those routes (e.g. channel remapping, controller remapping, splits, filters)
Playback of audio and MIDI files, either syned to a master transport or triggered from any MIDI event
Ability to host VST instruments and effects
Ability to set up songs and setlists (which store all the configuration data for a song)
Ability to set bindings and triggers. For example, Cantabile listens to Patch commands from my FC300 floor pedal which are bound to the different songs in my set list. When a song is selected, I have bindings to send patch changes to the keyboards
Ability to have different song states - e.g. easy and seamless switching between different VSTs in a song.
Etc.
This is a very powerful live host that is only limited by your imagination! I have used it over the years to host VSTs (but never the resource hungry ones until now), play backing tracks and run mylight show (using the DMXIS VST plugin which responds to MIDI notes in a sequence to select DMX cues). etc.
So, basically my hypersynth is based on this NUC computer, Cantabile and any VST which I chose to put on it. So you can mix and match according to your needs. This is why I was cool in the end about the Montage "only" providing AWM2 and FM-X. Whilst I would have loved Yamaha to resurrect AN and VL, why bother waiting when you can by your own VST equivalents to suit you needs, and which you can expand with more VSTs when you have the time and budget?
I took this rig out for the first time today, and on the computer and Cantabile I was running
Spectrasonics Omnisphere
UH-E DIVA and Repro-1
Arturia Mini Moog
XILS Poly Moog
XILS Poly Kobol
And backing tracks for some songs
And that is only what I used today. I have many more VSTs to pick and chose from according to the sound that I want!
With the Focusrite 2i4 set to a 10ms buffer, I can easily run several instances of Omnisphere and DIVA, where my old laptop couldn't even do one instance of either when you selected the more resource hungry patches. Result = awesome sonic potential! For some complex DIVA patches I am getting between 10-40% audio buffer load (how much of that 10ms buffer Cantabile needs to do its audio processing - my aim is < 50% on average to allow for plenty of headroom and of course >100% is crackles and glitches territory) and about 10% processor load, the second core (which must be running Cantabile is about 40% loaded when playing. Most of the less demanding VSTs are processing in about 10% of the Audio buffer, so plenty of scope for running several especially when you turn off their internal reverb (where they have it) and use a single reverb VST for all VSTs.
The system is optimised in accordance with the book that Cantabile's Author has produced called "Glitch Free Audio", which is available as a free ePub from the Cantabile website (well worth a read for any audio PC and host, it is quite generic and there were tweaks in there I had not heard of before). I also use a program called "Process Lasso" which you can use to prioritise programs, so I use it to set Cantabile above normal priority.
What this means is that the hardware synths I have are probably the last ones I will ever buy. If they last me as long as my EX5 did, they will see through my gigging days! Even if I am still gigging ten years from now, a PC will probably run an entire song setup of mine!
Just looking around the back of the rack....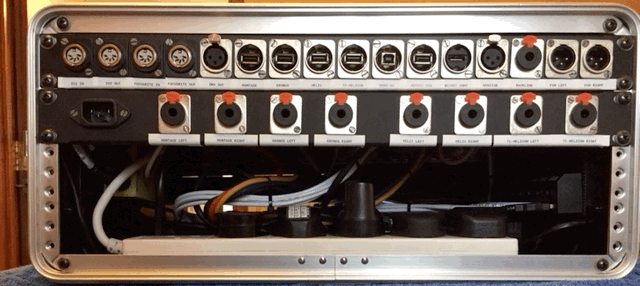 ... You can see that is all built with easy of stage connection in mind - no need to go fumbling for connectors inside the rack that you cannot see on a dark stage! All connections are made via bulkhead couplers, other than the MIDI connectors, as I could not find any couplers for those, so they are panel connectors with MIDI leads cut and soldered to them. Outside the rack I have labelled and loomed all of the cables between the synth and the rack, which makes setup and tear down much quicker
Here are some pictures of the work in progress inside the rack (I have more at various stages if people wish to see more detail). You can see how using couplers assists in ease of maintenance. The panels themselves are pre-punched and available from ESR Electronics (I can dig out details if people are interested) and the couplers come from either ESR Electronics or Studio Spares.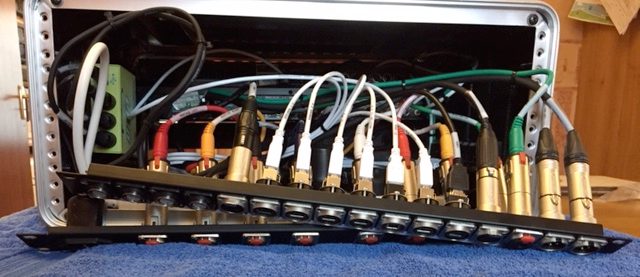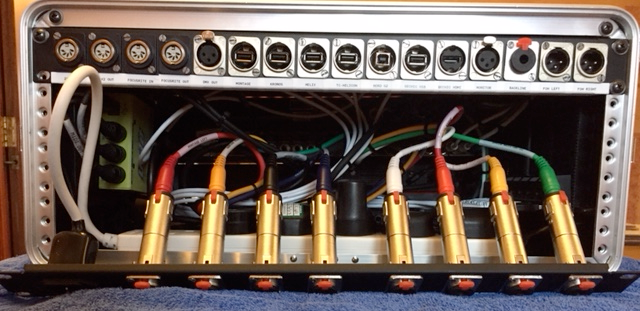 And everything labelled using a Brady hand held Cable Labeller (available from RS).
The big change for me whilst doing this is that previous to this work, I have used Cantabile mainly for backing tracks and DMX lights (in the Pure Floyd days I also ran NI B4II for organ duties), and in this context the gig laptop was at the end of the MIDI chain which was during Welsh Floyd
FC300 ==> Yamaha EX5 ==> Krog Kronos ==> Laptop
Earlier in Pure Floyd it was
FC300 ==> Yamaha EX5 ==> Novation Remote61 ==> Yamaha Motif Rack ES ==> Nord G2 ==> Yamaha FS1r ==> Yamaha A4000 ==> Laptop
So the laptop was always at the end of the chain. I avoided the use of MIDI routers/mergers on stage because the EX5 and Novation had the capability built in to do this (and the Novation would also hold notes whilst changing patches!) in that they could be set to "echo" MIDI in to MIDI out whilst also merging with their own data. But no keyboards seem to have this very handy feature any more.
In the new setup I have now moved to Cantabile being the hub in a "hub and spoke" model. The FC300, Montage and Kronos all connect to the computer. This will give me a lot more flexibil in that I can now use Cantabile to set up all sorts of routes between the units and VSTis.
I hope you've found the info posted useful and given you some ideas yourself. If people are interested I could take this info (along with more pictures that I have) and turn this into a mini-guide including part numbers of how to build a similar rack.
The key thing is that if you are never quite happy with what is on offer from the keyboard manufacturers, then doing something similar is an option to get the "hypersynth" of your dreams.