Moderators: Derek, parametric, Buzzard, Saul
I think this would be more useful if i post it here but the Image I acquired from Japan has stamped made in Japan on the back. Maybe the Japanese models were for domestic only and Taiwan for exports?
Just goes to show you never can be sure with Yamaha next we will be finding a made in UK one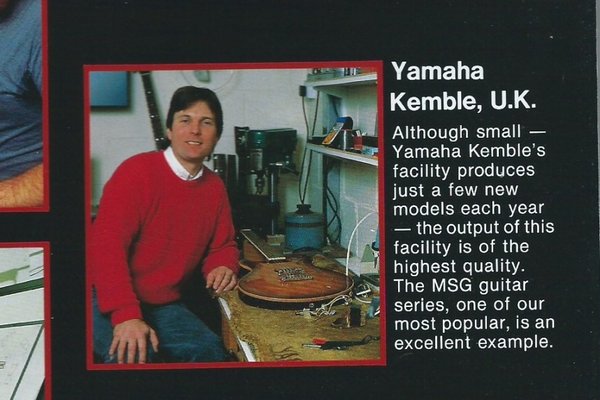 I wouldn't be surprised as Yamaha had some Custom shop Pacificas made in the US. If there are any U.K made MSG guitars, it would be pretty limited and made for select musicians which means finding one on the market would be pretty rare.
Posts: 1
Joined: Thu Jan 17, 2019 2:42 pm
Hello, I'm writing from Italy. I was searching info about my guitar when I found this thread. I own a very rare blue Image Deluxe Special that was made in Taiwan in July 1989.
May be an ususeful info for you: my one has a chrome RM-Pro bridge and no a black one as the one in the first post.
I'm the first owner and I bought it from a Yamaha reseller so I can grant that no mods was made on it.
Despite the age it is still like new. Next summer "she" will be 30 and I'm already organizing her birthday...
Here some pictures:
Welcome to the forum and thanks for the information
Hi Everyone:

I found a partial built Yamaha MSG Deluxe in California, that was stored at a Yamaha dealership. It came in a triangular cardboard box. Before I restore it, I would like to find a case. I've contacted most USA manufacturers, such as Gator, TKL, SKB, etc. I tried contacting Ibanez (AR case) and tried several times contacting Hiscox cases with no response (assuming Hiscox makes cases for Martyn Booth). Some companies are more than willing
to make a custom case for me but I'm not willing to pay $800+...just for the case. I've even looked at buying an empty case, gutting it, and re-foaming it myself. I thought I would try this forum as a last resort. Can anyone help or provide a contact (at Hiscox) to a manufacturer who has a case that will fit the Yamaha MSG?

Thank you, in advance, for your help.
Welcome to the forum sorry can't help with the case but I am intrigued by "partial built" can you tell us more and perhaps some pictures. Does it say where it was built?
Hello Poidog. I myself need to find a case for my Image so I cant help you get one. However, since the designed based on a the Gibson 335s, maybe a Gibson/Epiphone case would fit?
According to Mr. Booth, it was made in Sept 1988. It is stamped "Made in Taiwan" on back of headstock.
He also said the Hiscox cases made for his line of instruments are slightly smaller. But the Ibanez Artist cases
from the '80s and the '80s Fender Esprit Elite case might fit. If anyone has tried these cases, please let me know.
Here is a teaser picture. Feel like its a debutante but shes not ready for revealing.
Thank you for your responses.