GUITAR ACE TOURS WITH YAMAHA TO INSPIRE MUSIC STUDENTS
This website is supported through the Amazon Associate program as well as other affiliate ads. I earn a small commission from qualifying purchases made through links on the site.
Up to 1000 guitar students are preparing to welcome one of the UK's foremost rock guitarists who in a career spanning 20 years has sold over 5 million records and toured the world 7 times over, including headlining Glastonbury.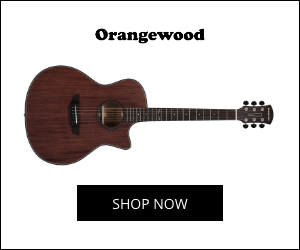 From Monday 9th to Friday 13th November Yamaha, is visiting 11 locations nationwide comprising Yamaha Music schools that teach Yamaha's highly acclaimed Guitar Encounters course and education partners including music hubs, schools, colleges and universities.
Guitar students from Key Stage 2 to undergraduate level, as well as adult learners, are set to benefit from a unique lesson and insight into the music industry from Ace – the guitarist, writer and co-founder of iconic British rock band, Skunk Anansie, who is swapping stage and studio for classroom, to inspire the next generation of musicians.
Throughout the tour Ace will be playing Yamaha's SG electric and APX electro-acoustic guitars.
Currently Head of Creative Industry for The Academy of Contemporary Music in Guildford, Ace is a renowned music educator who co-wrote and taught the BA Hons Live Performance and A&R modules at the acclaimed Brighton Institute of Modern Music. He holds a Master of Arts qualification in Media and Project Management based in music education from London Middlesex University and operates his own London schools incorporating the 'Ace Method' of guitar tuition.
Yamaha have been working with Ace since organising the Under 19 section of Parliament's 'Rock the House' competition to showcase the UK's best new musical talent, of which Ace is a patron.
Ace states, "It's always amazing to be working with Yamaha sharing the passion for, and inspiring young musicians through their schools and programmes. Also working together with such prestigious events as Rock the House in Parliament and within Higher Education at the acclaimed Academy of Contemporary Music (ACM) is an honour and a pleasure!"
Yamaha Music Schools Education Manager, Nigel Burrows, told us, "We are delighted to be working with Ace again this year and visiting a number of Yamaha Music Schools and Education partners. We share a common goal in trying to inspire young musicians and give them practical advice gained from our collective experience as well as providing them with a number of platforms to develop their talent. Ace's presentation is very inspiring and motivational tempered with a reality check that can only come from being a working Rock Musician!"
EVENT DETAILS
The Ace Tour
Date Time Venue
9th November 1.30pm Morpeth School, London
7.00pm Watford Yamaha Music Point
10th November 2.45pm Walton High School, Milton Keynes
7.15pm Godalming Yamaha Music School
11th November 11.00am Shireland Collegiate Academy, Smethwick
3.00pm Coventry University
6.30pm Coventry Youth Centre
12th November 9.45am Leicester New College
1.50pm Waseley Hills High, Rubery. Worcs.
13th November 11.00am Myton School, Warwick
6.30pm Peterborough Yamaha Music Point
Amazon and the Amazon logo are trademarks of Amazon.com, Inc, or its affiliates.
Please follow and like us:
You may also like...