Martin Guitar to Debut Fifth Collaboration with Grammy Award-Winning Artist John Mayer at Winter NAMM 2018
This website is supported through the Amazon Associate program as well as other affiliate ads. I earn a small commission from qualifying purchases made through links on the site.
Winter NAMM, Booth 5602 — C.F. Martin & Co.® (Martin Guitar) will unveil the D-45 John Mayer Custom Signature Edition at Winter NAMM in Anaheim, California on January 25, 2018. The model honors both the artist and one of Martin's most prestigious models, the D-45. The model will be limited to just 45 guitars.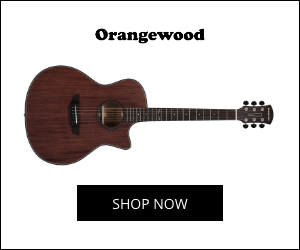 Mayer's collaborative relationship with Martin Guitar goes all the way back to 2003 with the release of his first signature edition, the OM-28 John Mayer, followed by the OMJM John Mayer (a staple in Martin's guitar line), the 00-45SC John Mayer, and the 00-42SC John Mayer.
The D-45 John Mayer is crafted with Guatemalan rosewood back and sides and an Engelmann spruce top with aging toner and forward shifted Adirondack X braces. This tonal masterpiece was designed by John Mayer and created by the master craftspeople in the Martin Custom Shop. Boasting a full thickness neck with hexagon inlays, bone nut and saddle, and gold open gear tuners, the D-45 John Mayer also features an interior label personally signed by the seven-time Grammy Award-winning artist.
"It's a tremendous honor to be John's acoustic guitar of choice for nearly 20 years," said Chris Thomas, Martin's Director of Marketing. "As in the past, John remained very involved with the design and creation of this guitar, his fifth collaboration with Martin. The D-45 John Mayer is the largest in John's collection of Custom Signature guitars, and is sure to be a hit. Considering the robust sound and level of appointments on this instrument, along with the limited run signed by John, I expect them to be completely spoken for before the close of the NAMM Show in January. The D-45 John Mayer model is exquisite, a very special guitar indeed. John is a song-writing, guitar-playing icon around the globe. It warms our hearts to know that we have been, in any way, a means by which his inspiration becomes a song."
For further details on the D-45 John Mayer Custom Signature Edition please visit www.martinguitar.com/guitars/custom-signature-editions/d-45-john-mayer.
About John Mayer
John Mayer is a Grammy Award-winning guitarist, singer-songwriter, author, and producer. Starting out as an acoustic rock performer, Mayer later turned his focus to blues, his first musical inspiration, and collaborated with blues legends B.B. King and Eric Clapton. Mayer went on to form the John Mayer Trio who's first two album releases received critical acclaim, as did his return to pop with the 2009 release of Battle Studies and its associated number one grossing tour. Mayer most recently developed an interest in The Grateful Dead and formed the band Dead & Company with three former members of The Grateful Dead. The band has been well received and touring since 2015.
Amazon and the Amazon logo are trademarks of Amazon.com, Inc, or its affiliates.
Please follow and like us:
You may also like...