Musikmesse 2017: first artists confirmed for the Drum Camp and Guitar Camp
This website is supported through the Amazon Associate program as well as other affiliate ads. I earn a small commission from qualifying purchases made through links on the site.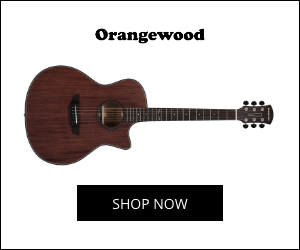 Jen Majura, Jost Nickel, Alex Landenburg and Dennis Hormes set to give dynamic performances – Special Guest: Steve Stevens
Star drum coach Mike Johnston to teach masterclasses
Visitors to Musikmesse 2017 can look forward to getting closer to music stars than at any concert. The Drum Camp and the Guitar Camp present exclusive performances by world-famous artists on their original touring equipment in the middle of Hall 11.0. The artists will appear in a sound-proof cabin that focuses attention on the musicians' playing techniques and personality. At the last Musikmesse, Drum Camp was one of the highlights for the international percussion community. For 2017, the concept is being expanded and also transferred to the guitar sector. Among the first musicians confirmed as participants of the coming Drum Camp and the Guitar Camp are Jen Majura (Evanescence), Jost Nickel (Jan Delay), Alex Landenburg (Luca Turilli's Rhapsody, ex-Axxis) and internationally renowned blues and rock guitarist Dennis Hormes. Taking part as special guest in a one-off performance will be Grammy award winner Steve Stevens (Billy Idol, Michael Jackson). Additionally, one of the world's most sought-after drum teachers, Mike Johnston, will hold masterclasses at the 'Drum College'.
Drum Camp and Guitar Camp – an emotion musical experience in an intimate atmosphere
At the camps, drum and guitar aficionados can expect a programme characterised by both top quality and variety. On all days of the fair, eight musicians will appear in the 'Blood, Sweat and Tears Box' – a sound-proof cabin with modern lighting and sound equipment, in which visitors can see and hear performances only inches away from the artists. Additionally, there will be an impressive exhibition of the stars' original touring equipment. After their performances, the musicians will be available to meet visitors and answer questions about their instruments and playing techniques.
Drum Camp and Guitar Camp are part of the new Musikmesse brand-world concept that combines product presentations, brand training and entertainment in attractive special areas. The Musikmesse Drums and Guitar brand worlds include not only the Camps but also Brand Areas (exhibition space for prestigious brands), Colleges (workshops and masterclasses) and Academies (instrument demonstrations with the focus on retailers and distributors).
First names confirmed for the Drum Camp and Guitar Camp
Drum Camp and Guitar Camp cover a broad musical spectrum from pop and rock, via blues, to power metal. The first renowned artists have been confirmed:
Alex Landenburg
Around the world from the Saarland region of Germany: the drummer's references range from Annihilator, Axxis, Bonfire and Masterplan to Stratovarius. At present, Landenberg is touring all continents as the permanent drummer of Italy's power-metal formation, Luca Turilli's Rhapsody. His performances at the 2017 Drum Camp are sure to be distinguished by spectacular and impressively precise double-bass attacks.
Jost Nickel
He has already made the stage quake at the 2016 Drum Camp. In the course of his career, the Berlin-born artist has worked as a session or touring drummer for a broad spectrum of artists including Vicky Leandros, Marla Glen, Ostkreutz or Mousse T. He first came to the attention of a wider audience as the drummer in Jan Delay's live shows. Next year, he will once again demonstrate his skills at Musikmesse.
Jen Majura
As guitarist in alternative-rock band Evanescence, she is at home on the world's leading stages. Prior to joining the US band, she played bass for the German pagan metal band Equilibrium, during which time she gained many new fans. The dynamic young woman will give virtuous performances at the Guitar Camp on all four days of the fair.
Dennis Hormes
In the opinion of blues-rock experts, the music of this exceptional guitarist are characterised by a delicate playing technique, a haunting voice and impressive arrangements. Following engagements with numerous well-known acts, he came to the attention of both fans and critics with his band Six String Therapy Fans. Hormes made his first appearance at Musikmesse when aged just 13. Now, his career is set to come full circle with his performances at the Guitar Camp.
Special Guest: Steve Stevens
He rose to fame as the riff genius alongside Billy Idol and now his sophisticated guitar style can be heard on legendary albums by artists such as Michael Jackson, Vince Neil and Robert Palmer, not to mention numerous solo albums. Additionally, he was awarded a Grammy for the soundtrack of 'Top Gun'. Born in New York, Steve Stevens has been a leading figure in the international music business for over 30 years. On the Saturday of the fair, 8 April, he will give an exclusive performance at the Musikmesse Guitar Camp. Additionally, he and his band will play at the 'Batschkapp' venue in Frankfurt on 7 April. The following day, he will appear on the Centre Stage at Musikmesse 2017.
At the Drum College: Mike Johnston
Musikmesse visitors can look forward to internationally renowned drum trainer Mike Johnston. His website at www.mikeslessons.com is one of the top internet addresses for everyone wanting insights into sophisticated playing techniques. Drummers from all over the world are willing to spend large sums on his lessons – at Musikmesse 2017, he will be giving free workshops at the Drum College.
More Drum Camp and Guitar Camp artists will be announced shortly. Musikmesse 2017 will be held on the western section of Frankfurt Fair and Exhibition Centre from 5 to 8 April. Further information at www.musikmesse.com
[AdSense-A]
Musikmesse – It's my tune
Next event: 5 to 8 April 2017
Musikmesse is the International Trade Fair for Musical Instruments, Sheet Music, Music Production and Music Business Connections. From classic instruments, guitars, bases, wind instruments and percussion to electronic equipment, hardware and software, the range covers the complete spectrum of musical requisites. With flexible presentation options, the fair is a business and marketing platform for companies of all sizes. Moreover, Messe Frankfurt invests continuously in creating powerful attractions for all visitor target groups, e.g., an extensive seminar programme for retailers and distributors, numerous stages and event areas, instrument workshops and musical instruction for young people. The concurrent Musikmesse Festival presents renowned artists in clubs, bars and venues throughout Frankfurt. On three days, Musikmesse will be held parallel to Prolight + Sound, International Fair of Technologies and Services for Entertainment, Integrated Systems and Creation. Together, the last editions of the two fairs attracted over 100,000 visitors from 130 countries and around 2,000 exhibitors from 60 nations.
Background information on Messe Frankfurt
Messe Frankfurt is one of the world's leading trade fair organisers, generating around €648 million in sales and employing 2,244 people. The Messe Frankfurt Group has a global network of 30 subsidiaries and 55 international Sales Partners, allowing it to serve its customers on location in 175 countries. Messe Frankfurt events take place at approx. 50 locations around the globe. In 2015, Messe Frankfurt organised a total of 133 trade fairs, of which more than half took place outside Germany.
Comprising an area of 592,127 square metres, Messe Frankfurt's exhibition grounds are home to ten exhibition halls. The company also operates two congress centres. The historic Festhalle, one of the most popular venues in Germany, plays host to events of all kinds. Messe Frankfurt is publicly owned, with the City of Frankfurt holding 60 percent and the State of Hesse 40 percent.
Further information on the company can be found at http://m-es.se/Fj86
Amazon and the Amazon logo are trademarks of Amazon.com, Inc, or its affiliates.
Please follow and like us:
You may also like...