NAMM 2017: Yamaha Introduce New A Series Acoustic Guitars
This website is supported through the Amazon Associate program as well as other affiliate ads. I earn a small commission from qualifying purchases made through links on the site.
A SERIES THE NEXT STAGE
Designed to be the ideal performance acoustic guitar, the Yamaha A-Series is crafted from the ground up to be perfectly suited to life on the road. With natural, dynamic plugged-in tone and stage-ready simplicity from the new SRT2 pickup system; played-in comfort out of the box thanks to hand-rolled fingerboard edges on a straight taper neck; a custom designed scalloped bracing pattern for an all-new powerful, expressive acoustic tone and Yamaha's legendary road-ready construction to make sure it's ready when you are, night after night, the A-Series is the perfect guitar to take your playing to the next level.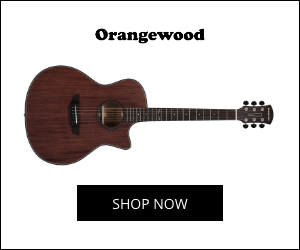 Sound : Construction
The A Series construction was designed with one thing in mind – tone.
Deep, rich lows, an open, detailed midrange and clear, musical highs give your music room to breathe while underpinning your sound with an unmistakable, timeless character.
Hand-selected tonewoods combine with intricately-crafted construction to create a guitar with incredible resonance and personality.
Sound : SRT System (Studio Response Technology)
Using advanced Digital Signal Processing and real-world insight into audio technology and recording techniques, Yamaha have developed SRT – a pickup and preamp system capable of delivering an amazingly natural, studio-quality acoustic guitar tone.
Sounds that were, until now, only attainable by professional recording engineers using expensive vintage microphones in world-class acoustic spaces are now easily recreated by any player, on stage or in the studio.
SRT does not artificially create a guitar tone, rather it creates a faithful reproduction of the other elements that make up a great guitar sound – the subtle ambience of the real space between instrument and microphone, the characteristic EQ voicing of a great sounding vintage mic, the different resonances captured when you move a mic around a guitar.
And because SRT uses your guitar's natural tone as a basis for this process, the result is phenomenally realistic and full of the acoustic character of your guitar.
Feel : High Comfort Neck Profile
The natural feel of perfectly finished wood.
A neck shape make you feel like you've known it for years.
An action that is somehow effortless, yet still rewarding.
These are the things that add up when you just know that a guitar feels 'right'.
These are the things that make an A-Series feel the way it does.
Extensive research with players, luthiers and techs has given A-Series the feel and playability that today's acoustic-electric players need and want whether that means switching from electric to acoustic on-stage, recording a session with intricate open tunings or practicing at home.
Look : Simple but Distinctive
Compromise was never an option with A-Series – on every level, this guitar is built to be the one you want to own.
Real wood binding, original wood inlays, a new and distinctive headstock and a scratchplate with a story.
The look of A-Series is the definition of elegant – simple, but powerful.
[AdSense-A]
Amazon and the Amazon logo are trademarks of Amazon.com, Inc, or its affiliates.
Please follow and like us:
You may also like...