NAMM 2019 – Yamaha Sonogenic SHS-500 A New Kind Of Keytar
This website is supported through the Amazon Associate program as well as other affiliate ads. I earn a small commission from qualifying purchases made through links on the site.
Now this looks like an interesting new instrument from Yamaha. It's called the Sonogenic SHS-500 "keytar" and the idea behind it is to enable young musicians to play their favourite tunes even if they do not yet know how to play a keyboard.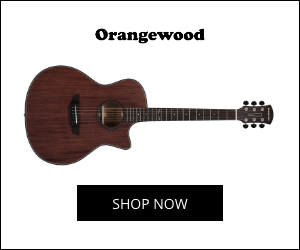 Central to the easy play thing is a Yamaha app called Chord Tracker, which can analyze the music library residing on a smartphone or tablet and then send chord data directly to theSHS-500 via wireless MIDI over Bluetooth.
With the unique JAM mode enabled, keys on the SHS-500 will trigger only the correct chords — and any soloing notes that go with them — as the song plays back through either a separate listening system or the one built into the SHS-500, via its 3.5mm stereo mini input.
This means you can jam along to your favourite tracks without worrying about hitting a bum note. It is the sort of thing that experienced players will no doubt roll their eyes at but, it does encourage new players who might be put off by the sometimes dull and repetitive traditional methods of learning keyboard to start taking an interest. And that is a very good thing in my book.
Of course there is plenty on offer here for the more experienced player to appreciate as too. Via Bluetooth MIDI the SHS-500 can control soft synths and virtual instruments on a laptop computer, pad or smartphone. Wireless MIDI like this frees you from the desktop. You can now move around without any cables getting in the way. USB audio streaming and MIDI make it a full-featured controller and on-the-go audio interface in one.
There are a total of 30 voices onboard the SHS-500 including the usual array of high quality pianos and synths we have come to expect from Yamaha plus two drum kits.  This makes it a completely self contained instrument and can be played without the need to connect to anything else. Wheels and buttons along the neck provide pitch-bend, modulation, octave shifting, key transposition, playback control for songs on the connected device and more.
The Yamaha Sonogenic SHS-500 looks like a fun instrument for casual play but can also be turned to more serious music making as the need arises.
Pricing and Availability
The Yamaha Sonogenic SHS-500 comes in red or black and is expected to ship during January 2019, at an MSRP of $499.
For more discussion on the Yamaha SHS-500 head over to our forum. We would love to see you there!
Amazon and the Amazon logo are trademarks of Amazon.com, Inc, or its affiliates.
Please follow and like us:
You may also like...