Oriental Magic! – The Enchanting Eastman AC222CE-OV
This website is supported through the Amazon Associate program as well as other affiliate ads. I earn a small commission from qualifying purchases made through links on the site.
Way back in the mists of time or in my case the 70's there were two things you could be certain of when talking about products coming out of the Far East. They were all as cheap as chips and would almost certainly last just about as long. Thankfully those days are very much behind us and the quality of products coming out of countries such as Korea, Indonesia and China are often up there with the best the West has to offer. Nowhere is that better illustrated than with Eastman Guitars.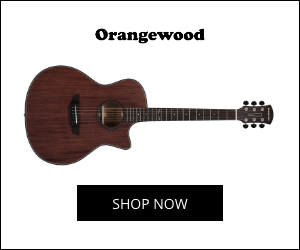 I have been aware of Eastman Guitars for some time but I have not had the opportunity to look at any of them in close detail until now. The name often comes up when talking about Taylor, Martin and Gibson so they are keeping very good company.
First lets kick off with a little history:
As an accomplished flutist from Beijing, Qian Ni founded Eastman Strings in 1992 after graduating from the Boston University School of Music. He never imagined that over the course of 25 years, the company would grow from a small business operated out of the back of his car into a global maker of musical instruments.
"As a musician, I founded our company with the hope of providing world class instruments for musicians. I personally enjoy the process of working with our luthiers and production team nearly every day to develop new products and improve what we currently manufacture. Eastman is a family business, and I feel very honoured to be able to be part of such a wonderful company." – Qian Ni
These time-honoured yet humble beginnings keep us grounded as the Eastman family grows into our third decade of service, supplying the world with the finest instruments. From our skilled luthiers who painstakingly carve carefully selected woods, to the team who hand varnish and age our Antique Varnish Series, our guitar & mandolin craftsmanship is rooted in the same obsession to build the best violin, violas, cellos, and basses. We will continue to provide the same responsive service and outstanding products that have helped us emerge as a leader in the world of modern instruments.
Now, of course it is quite common these days to build a brand image around "the craftsman" or "artisan" nature of the product and very often this is more from the imagination of the marketing department than reality but in the case of Eastman I can say that on the evidence so far it all seems to be true. They really do hand craft their guitars and the quality control is exemplary.
I have been lucky enough to have the Eastman AC222CE-OV on loan for a video review and I have to say this is certainly an impressive guitar, especially given the price point of £689 with padded Eastman gig bag (correct as of August 2018).
Check The Specs:
Neck Material: Mahogany
Fingerboard: Ebony
Fingerboard Radius: 12″
Neck Profile: Traditional Even "C"
Nut: Bone 1 3/4″
Fretwire: 22 Jescar-FW43080
Scale Length: 25.4″
Body Dimensions: 16″ x 4 1/4″
Bracings: Hand Scalloped X
Body Top: Solid Sitka Top
Body Back/Sides: Solid Ovangkol
Bridge/Saddle: Ebony/Bone, 2 5/32″ Spacing
Rosette: Classic
Truss Rod: Dual Acting
Binding: Top and Back
Binding Material: Tortoise
Logo: Eastman Maple
Inlay: Pearl Dots
Side Dot Colour: White
Bridge Pins: Ebony
Body Top Finish: Gloss Nitrocellulose
Neck Finish: Open Pore
Hardware Color: Nickel
Tuners: Ping RM 1171-CVR 3+3
Electronics: Fishman Sonitone
Strings: D'Addario .012-.053 #EXP16
Action Height: 12th fret 3/32″ on the bass side and 2/32″ on the treble side
Case: Padded Eastman Gig Bag
Truss Rod Wrench: 4mm
Colour Options: Traditional
Build Quality:
The Eastman AC222CE-OV is superbly finished and the attention to detail is visible everywhere you look. I was particularly impressed with the how smooth and perfectly finished the frets were. Coupled with the Mahogany neck, Ebony fingerboard and wonderful action straight out of the box this guitar is a pleasure to play.
The gloss nitrocellulose, open pore finish and tortoise shell binding around the body of the guitar add a touch of class to it's somewhat understated looks. The AC222CE-OV has a very refined feel to it that belies the relatively low price. We should remember this is an all solid wood guitar we are talking about here. That price matched with such high quality are not two things you always expect to see in the same place.
How Does It Sound?
Fantastic! pretty much sums it up. The AC222CE-OV is the sort of guitar you don't want to put down. Every time I play it I am reminded of another guitar that I was equally impressed with and that was the Yamaha AC3R and I think the reason for that, is to do with the solid Ovangkol back and sides on the Eastman. This wood is very similar in tonal character to the solid Rosewood used on the Yamaha AC3R.
Ovangkol shares a lot of the same properties as Rosewood although slightly fuller in the midrange and a bright on the treble response.
I prefer the Eastman because it also has a much richer bass response that is quite defined and not muddy at all. It just sounds like a more versatile instrument that could be used in a lot of situations. Either strummed hard or softly played in fingerstyle it seems to just work. The Yamaha AC3R is a fine instrument by the way, I just happen to think the Eastman is the better guitar for the money.
By the way, the recording in the video was done with a matched pair of RØDE M5 cardioid condenser microphones mounted on the RØDE Stereo Bar. Look out for an review of these coming soon.
Fishman Sonitone:
It has always been my opinion that "most" on-board preamp/pickup combos fitted to acoustic guitars never really quite cut it in reproducing that pure acoustic sound of the guitar. Sure some are better than others but none are really that great. With the AC222CE-OV I am not sure if it is the Fishman Sonitone producing the magic here or the fact that it is fitted to an Eastman guitar but the combination produces a warm rich tone that you really need to experience in person in order to appreciate properly. I hope some of it's qualities have come across in the video but there are a lot of variables involved such as room acoustics (we don't use effects), audio interface, DAW software, online compression as well as what the end user is listening through. Suffice to say though that it is very good and well worth checking out.
Conclusion:
Going by what I have seen and heard so far I would say that if you are in the market for a new acoustic and have not yet tried an Eastman you should find your nearest dealer and head down there as soon as possible. The AC222CE-OV should be on everyone's short list and I would firmly place it in the "must try" list of guitars at this price point…and probably higher.
More Info:
https://www.eastmanguitars.com/
Follow Eastman Guitars On Instagram
Follow Eastman Guitars On Facebook
Follow Eastman Guitars On Twitter
Also do drop by the forum for more discussion about the Eastman AC222CE-OV and other Eastman guitars. We would love to see you there!
Amazon and the Amazon logo are trademarks of Amazon.com, Inc, or its affiliates.
Please follow and like us:
You may also like...