WIN a Faith Blood Moon Venus guitar worth £929 with Karl Golden
This website is supported through the Amazon Associate program as well as other affiliate ads. I earn a small commission from qualifying purchases made through links on the site.
Faith Guitars are giving away a Blood Moon Venus worth £929 to one lucky winner. This is to celebrate Karl Golden of Golden Studios reaching 200,000 subscribers on YouTube.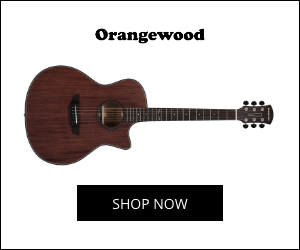 VOTED THE UK'S BEST ACOUSTIC GUITAR 2016
The Venus Blood Moon is a beautiful instrument which uses only the finest, figured Javanese Trembesi for the top, back and sides. This indigenous Indonesian timber has long been used by furniture makers for its stunning appearance, but we have been convinced of its tonal properties for a good while too.
Not unlike Hawaiian Koa, a solid Trembesi instrument reacts in a similar way to Mahogany, delivering warmth and balance across the strings, while still having a little rosewood-eque sparkle at the top end.
The exclusive 'Blood Moon' burst finish and solid flamed maple binding serves to enhance its stunning appearance further.
Each guitar will have its own distinct figuring: Some with straight, pronounced vertical grains; Some with horizontal 'flaming'; and even some with a combination of the two. But regardless of the individual figuring of each model, the tone will be wonderful, and the appearance will be truly unique.
For more discussion on the Faith Blood Moon Venus and many other guitars why not drop by our forum, we would love to see you there!
Amazon and the Amazon logo are trademarks of Amazon.com, Inc, or its affiliates.
Please follow and like us:
You may also like...