Yamaha FG800M – Best Beginners Guitar?
This website is supported through the Amazon Associate program as well as other affiliate ads. I earn a small commission from qualifying purchases made through links on the site.
In many ways there has never been a better time to get into the art of making music. Compared with when I started out over 40 years ago things have moved on leaps and bounds in terms of both quality and price of instruments available. Today you can purchase a budget instrument and be fairly sure it will be well made, with decent quality materials and will sound pretty good too. However it is a crowded market, especially where guitars are concerned. So how do you stand out from the pack?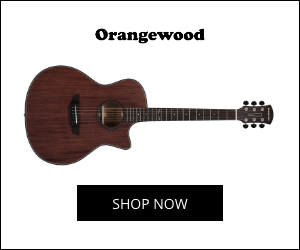 Yamaha are well known for producing high quality instruments at affordable prices and so into that sea of lower priced acoustics comes the Yamaha FG800M.
I have to say I was quite surprised when the FG800M arrived. Although I had briefly played some of the more expensive FG series before, I had never tried the FG800 and I had trouble equating it's low price with how good it looked and how well it played. Yamaha definitely know a thing or two about how to build an acoustic guitar!
So, what is the FG800M and what is special about it?
The Spec:
Solid Spruce top.
Scalloped X-Bracing.
Nato (layered) back & sides.
Nato Neck.
Rosewood Fingerboard & Bridge.
Chrome tuners.
650mm scale length and 43mm nut.
Black body binding
Dreadnaught shape
That's a pretty decent spec for the price, which at the time of this review was under £200/€234/$263.
The Build:
Looking around the guitar it seemed to be very well put together. The matt finish is not for everyone of course but I prefer it. There is another version of this guitar simply called the FG800 which has a slightly more refined finish but you will pay an extra £50/€58/$65 for it.
The rosewood fretboard had a nice smooth feel to it and the frets were well finished.
My only complaint was with the nato neck. It was smooth on each side but not properly finished down the middle. It had a slightly rough feel…not uncomfortable at all, just not as well finished and as smooth as it should be. I must emphasise that I can only comment on the guitar I had in my hands and I would not expect this to be something many people buying a FG800M guitar would experience.
All in all though the guitar is well made and it looks and sounds great.
The Sound:
Being a dreadnaught the sound projection is very good and that scalloped x-bracing does make a subtle difference compared to the previous FG range.
The back and sides of the FG800M are made from layered Nato which has very similar tonal characteristics to mahogany. Being layered and not solid wood I don't think they contribute an awful lot to the sound of this guitar, perhaps some very subtle interaction but really it is the solid spruce top along with the general design of the guitar that does most of the work.
If I had to describe the sound in one word I would say "warm". The FG800M has a very smooth warm, woody tone to it and I must admit it sounds far more expensive than it is. If I had heard this guitar without knowing what it was and how little it cost I would have put it somewhere in the £3-400 price range. Yamaha have really done an incredible job here.
Conclusions:
As I mentioned at the start of this review it is a very crowded market at the budget end of acoustic guitars. To stand out is not easy but Yamaha have hit winner in the FG800M. It looks great in a very subtle sort of way and more importantly it sounds great too. Slight concerns about the finish of the neck aside I would definitely buy one of these guitars myself. The combination of sound, looks and price are hard to ignore.
So if you are just starting out on acoustic guitar and looking for something at the budget end that is made from quality materials, is easy to play, looks and sounds great, the Yamaha FG800M has to be on your "must try" list.
I would also recommend this guitar to more experienced players. To say the FG800M is a "beginners" guitar would probably be doing it a disservice. A good quality "budget" guitar would be more accurate. If you regularly take a guitar out and about with you this would be a great buy. You can leave your more expensive guitars at home and the low price means you won't be too upset if the guitar gets a few knocks. At the same time you won't sound like you are playing a cheap guitar.
For more info visit: https://uk.yamaha.com
If you have any questions leave them in the comments section on the video or  drop by our forum. We would love to see you there!
Amazon and the Amazon logo are trademarks of Amazon.com, Inc, or its affiliates.
Please follow and like us:
You may also like...