Yamaha Releases New Pro Music Product Guide App
This website is supported through the Amazon Associate program as well as other affiliate ads. I earn a small commission from qualifying purchases made through links on the site.
For over 20 years, the Yamaha Pro Music Product Guide has been the tool of choice used by serious pop musicians to stay informed about the latest gear and accessories, including guitars, drums, synthesizers and pro audio products.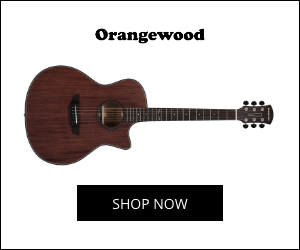 While the first edition, released in 1994, had a handy flyer-sized format and a mere 60 pages, the concept quickly turned into a 300-page catalog that has been used ever since by Yamaha sales reps and dealers as an invaluable sales tool. Dealers often turn to the product guide to answer specific end-user questions or to check product specifications.
End-users are equally fond of this institution: at the annual Musikmesse trade show, it has a tendency of becoming unavailable in a matter of days.
After studying the specifications of their favorite guitar, potential users often have specific questions about the design, available colors or the sound of the TransAcoustic technology, say. While these can easily be answered and/or demonstrated by authorized music dealers or Yamaha staff at trade shows, hard-copy catalogs never quite managed to provide end-users with a satisfactory experience of the products in their homes.
As the next-generation digital version of this catalog, the Pro Music Product Guide app bridges the gap for the entire Pro Music product range: in addition to detailed information, comprehensive specifications and recommended accessories for all current products, it provides sound demos, 360° videos and detailed views of important product features for an enhanced experience at home.
The app will be updated at regular intervals to present the latest products, announcements of upcoming products and special editions—another first with respect to the hard-copy catalog, which is printed only once a year. Video tutorials demonstrate supported playing techniques and sound settings, and supplement the information provided by local authorized dealers where necessary.
All currently available Yamaha product apps for the DTX-series drums, Spider range, etc., are linked to the Yamaha Product Guide app and can easily be downloaded from the applicable app store.
Additionally, end-users are kept up-to-date about the activities of Yamaha artists, upcoming events and shows.
Download the free app from the App Store or Play Store and open it on your iPad or tablet to experience the magic of our gear and to stay informed about high-profile and must-see events—like the upcoming Musikmesse in Frankfurt, for instance. Apple Store Google App Store.
Scheduled for April, this year's edition will mark the beginning of a new era: for the first time, the new Pro Music Product Guide app will be the essential companion for sales representatives, dealers and end-users as an enhanced and expanded replacement of the printed catalog for a holistic experience of Yamaha Pro Music products.
The Pro Music Product Guide is available on both the AppleApp Store and Google Play
If you want to discuss any Yamaha products please drop by our forum for news, opinion and technical help
Amazon and the Amazon logo are trademarks of Amazon.com, Inc, or its affiliates.
Please follow and like us:
You may also like...