Yamaha Sonogenic SHS-300 Keytar – No Music Knowledge Required!
This website is supported through the Amazon Associate program as well as other affiliate ads. I earn a small commission from qualifying purchases made through links on the site.
The Yamaha Sonogenic SHS-300 is a wearable "keytar" that empowers anyone to sound great playing along with their favorite songs, even if they've never picked up a musical instrument.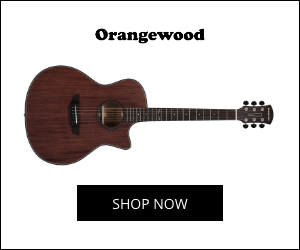 L
ittle brother to the SHS-500, first introduced at the NAMM music products convention in January 2019, where it earned a "Best in Show" award. Sonogenic ushered in an entirely new category of musical instrument, which brought a new level of spontaneity to the process of creating music for everyone who loves to listen to it, smashing the barrier to entry and turning passive enjoyment into active creativity.
Like the SHS-500, the SHS-300 can be played in the usual way as well, but its groundbreaking Jam function enables free-flowing performance without fear of ever hitting a wrong note. Musicians and non-musicians alike can enjoy a new level of interaction with the music they love — a level not achieved by any "rock hero" video game.
The Jam function works together with a free iOS or Android app called Chord Tracker, which analyzes the songs already stored in the music library of the connected mobile device and creates chord charts for them. Then, via a USB or wireless Bluetooth connection, it remaps the keys on the Sonogenic's keyboard as a song plays, so that whatever keys are pressed are always in harmony with the chord of the moment. Even laying a forearm across the 37-note keyboard cannot cause a dissonant sound.
Further enhancing the Jam function are three musical modes in which it can operate. A mode called 1Finger is best for backing or "comping" parts with just one finger as it adds harmonies to whatever note is struck, Backing mode lets the player do the same with more fingers, and Melody mode is ideal for letting loose ripping solos.
The SHS-300 has 12 instrument Voices including synth leads, bass, and brass, piano, electric piano, organ, electric and acoustic guitars, strings, and even a dance kit that assigns different drum sounds across the keyboard. Because the Sonogenic doesn't shift the timing of when notes are played, it offers a major benefit to those who sincerely want to learn to play keyboards but feel intimidated: They can begin by working on rhythm without having to think about pitch. As this increases their confidence, they can eventually turn Jam mode off if desired.
Audio output of the SHS-300 can be enjoyed through the built-in speaker or 1/8-inch stereo headphone jack. A pitch-bend wheel on the neck of the instrument allows for realistic synth-like expression while buttons next to it add vibrato and sustain, select Voices, and engage and disengage the Jam mode. Settings such as key transposition, tuning, touch response, and more are adjusted by pressing the Function button and then a keyboard key; functions are clearly labeled on the casing beneath the keyboard.
The SHS-300's USB port may also be used to connect to a computer for MIDI communication with virtual instruments and recording software. And because the SHS-300 can be powered by four AA batteries or over USB, there's neither place nor time where a spontaneous Jam session can't happen.
"Everyone who loves to listen to music imagines being in the band," says Ben Harrison, marketing manager, Digital Piano and Portable Keyboard, Yamaha Corporation of America. "With the Sonogenic SHS-300 — which brings most of the features of the SHS-500 in at a lower price — they truly can."
Pricing and Availability
The Yamaha Sonogenic SHS-300 (MSRP $299.00) will be available exclusively at Amazon through the end of 2019. For more information, visit the Yamaha Booth at the 2020 NAMM Show in the Anaheim Marriott Hotel, Marquis Ballroom, January 16-19, 2020, or https://yamaha.io/2JBrUQD
Join the conversation over on our forum.
Amazon and the Amazon logo are trademarks of Amazon.com, Inc, or its affiliates.
Please follow and like us:
You may also like...